Tortellini with peas, ham and cream

600 g fresh tortellini
120 g fresh peas
160 g ham
400 ml cooking cream
1 shallot
150 ml EVO oil
Salt
Pepper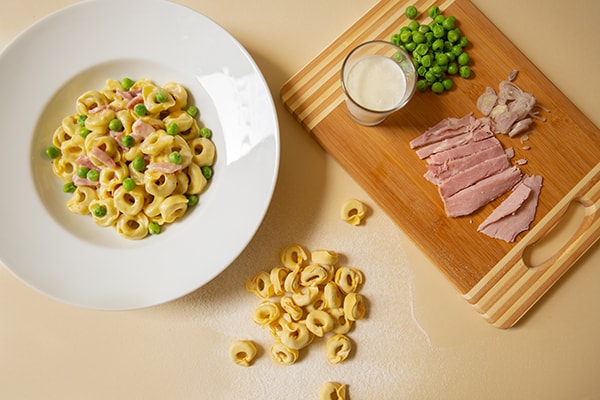 Step 1
Fill a pot with water (approx. 4-5 litres), add salt, and bring to a full boil.
Step 2
Boil the clean peas in a pan with 1 litre of water for around 10 minutes.
Step 3
Cut the ham into small cubes.
Step 4
Lightly brown the julienned shallot in the EVO oil in a hot pan.
Step 5
Add the cubed ham and sauté.
Step 6
Add the boiled peas, cream, salt and pepper and cook 3-4 minutes.
Step 7
Boil the tortellini for 4-5 minutes, drain and pour into the pan with the sauce.
Step 8
Add grated Parmesan, cook 1-2 minutes and serve.